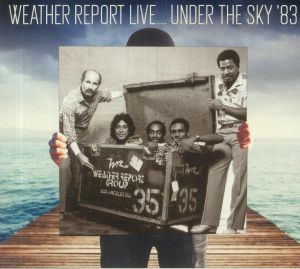 weather report: under the sky '83
(2021, 2cd, uk, equinox)
The Equinox record label keeps putting out these "Under The Sky" albums.
One of the recent ones is a 2 CD set by Weather Report: "Under The Sky '83", recorded on July 29 in 1983 at the Yomiuri Land Open Theatre East in Inagi, Japan.
This was to be the last incarnation of the legendary Weather Report.
Publicity shots at the time show Joe Zawinul and Wayne Shorter opening a large packing case to reveal their new rhythm section. Despite the departure of Jaco Pastorius and Peter Erskine the leaders are smiling broadly; once again they have replaced the irreplaceable. Night by night, throughout the long 1983 tour documented here, drummer Omar Hakim and bassist Victor Bailey would prove themselves the equals of their predecessors and forge a powerful ensemble sound.