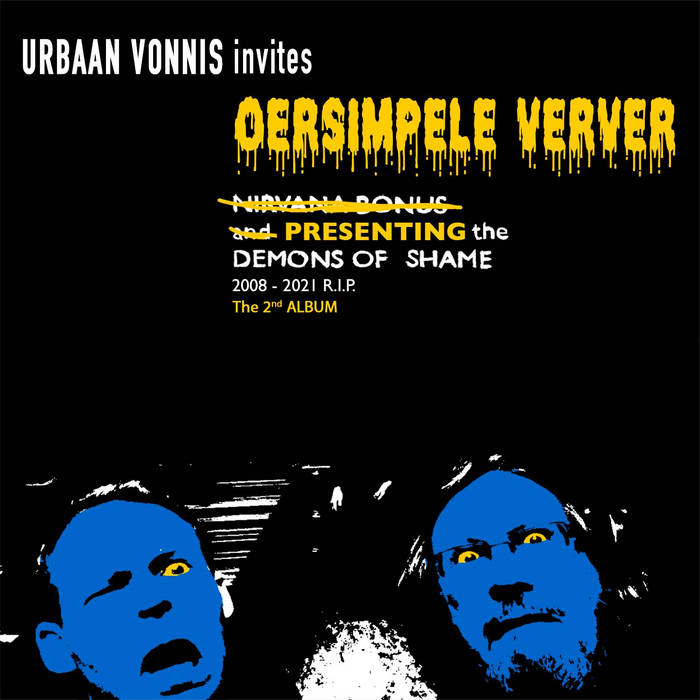 bruno vansina: presenting the demons of shame
(2021, download, bel, bandcamp)
On his Bandcamp page, Bruno Vansina says:
This is what I do when I forget for a moment that I'm a saxophonist, that I'm a 'supposedly' trained 'jazz' musician. I release this album under the new and slightly more modest alter ego 'Urbaan Vonnis' because the earlier album -Nirvana Bonus and the Demons Of Shame- from 2008 is just crying out for its successor. 13 years ago I already made an almost complete second album. Now, after all these years - I will never dare to perform this live again - I thought the time was right to finish these demos further. Once again I call on the guitar, bass guitar and magic scissors of Pierre Vervloesem. Enjoy and hopefully laugh as hard as I do !!!
According to Bruno, this material got recorded in 2008, right after "Nirvano Bonus And The Demons Of Shame".
To be honest, I don't care when it got recorded. The most important thing is that it got released.
"Presenting The Demons Of Shame" is a great album.
Assuming the demons are Bruno Vansina (sax, flute, synth, keyboard) and Pierre Vervloesem (guitar, bass, vocals), they were assisted by David Thomaere (keyboard), Peter Vandenberghe (piano, vocals), and Jordi Geuens (drums).
12 tracks: from a Talking Heads tribute over jazzy saxophone lines to floating guitar tones, and everything in between.
The Bandcamp page does not mention a CD or LP release, so I went for the digital download option (although I still prefer physical releases).
Check it out :