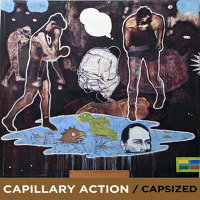 capillary action: capsized
(2011, cd, usa, natural selection records)
The future looks bright for Capillary Action.
The band is touring in Europe, and they have a fine, new album to promote.
On "Capsized", Capillary Action mixes all sorts of musical styles and produces a very energetic, captivating bunch of songs.
This is the sort of album that demands your complete attention.
Available from http://www.mandai.be/
Here's a sample. Check it out!