United Mutations
captain beefheart, sun ra, the residents, frank zappa and more
Monday, July 16, 2018

From The Residents' newsletter :

Next, The Residents are pleased to report that their new album, 'Intruders', has been completed and is now being prepared for release. Of course, we're here to hype it, but it really is a remarkable record, and, dare we say, the work of a refreshed Residents. Eleven songs in all, each of them framed within its own vaguely paranoid soundscape, and featuring several guest contributors old and new. It seems the album will be available in your usual favourite formats, alongside some special offerings from our friends at Psychofon too. ETA is currently sometime around October, so watch the skies for an official announcement via Cherry Red and MVD.

And lastly, a reminder that the 'I AM A RESIDENT!' album will be released commercially worldwide on August 24th. There's the regular 2CD version, featuring the IAAR suite and a selection of hand-picked cover versions of all your Residents faves, alongside a very special vinyl edition featuring even more exclusive fan versions. As you probably know, The Residents were overwhelmed by the standard of material submitted by almost two hundred fans for this project, and were moved to produce a remarkable and enduring suite in return. The results may be weird, but it's an essential addition to The Residents' canon.

Yeah, they have a canon. Get used to it.

There's more of course – always more – including 'Commercial Album' and 'Eskimo' pREServed news – but that can wait. For now, The Residents hope you enjoy 'The Brickeaters' and wish you all the best in trying to understand the 'I AM A RESIDENT!' and 'Intruders' records.



Geplaatst door

UniMuta
op 8:06 AM
No comments:


Sunday, July 15, 2018
This "Splitting In 2" Alternative TV compilation album includes the band performing Frank Zappa's 'Why Don't You Do Me Right?'.
It got previously released on the 1978 "The Image Has Cracked" album.
Here's 'Why Don't You Do Me Right?' performed by an ATV reincarnation, from 2012 :
Geplaatst door

UniMuta
op 5:07 AM
No comments:


German rocker A.S.H. Pelikan has been making music since the early '70's. In 2008, A.S.H. started releasing a series of retrospective albums.
As A.S.H. used to play a lot of coverversions, a lot of them can be found on these albums.
Album number 6 in this series, "Falch Abgebogen", includes A.S.H. performing two Frank Zappa tunes : 'More Trouble Every Day' and 'Big Leg Emma'.
Geplaatst door

UniMuta
op 4:36 AM
No comments: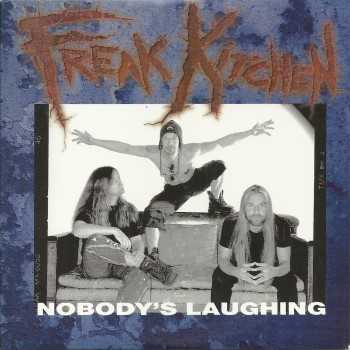 Around the time of the release of "Move", Freak Kitchen's fifth album, a promotional CD got released in France.
"Move" was the first album with the new line-up. Guitarist Mattias IA Eklundh was still part of the band, but Christer Örtefors (bass) and Björn Fryklund (drums) had only recently replaced Christian Gronlund (bass) and Joakim Sjoberg (drums).
The CD presented and audio and the video clip for 'Nobody's Laughing', plus a medley of all the "Move" tracks.
Geplaatst door

UniMuta
op 3:02 AM
No comments: