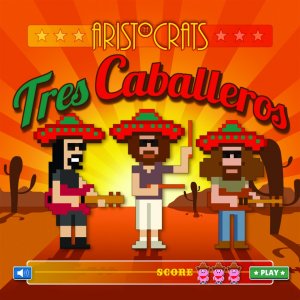 The Aristocrats are Guthrie Govan, Marco Minnemann and Bryan Beller.
Their latest album is called "Tres Caballeros" and it's excellent.
On the bonus DVD, they explain how the album came about.
Usually, each of them writes a couple of songs and sends it to the others. Everybody learns the songs and then, afterwards, the three of them meet in the studio, record the album and start touring.
This time, Guthrie, Marco and Bryan were able to play a couple of gigs at the Alvas Showroom in San Pedro, CA, a couple of days before they went into the recording studio.
Meaning that they were able to get more comfortable with the songs and to try out and to adjust certain things.
It shows.
This is excellent.